The word of God is the bedrock foundation manifested in the organizational culture of the company through the years. In the past 26 years of its existence since 1996 its godly goal was to consistently supply high quality stones to contractors, architects and homeowners.
JB Rock, started from the very least of humble beginnings. In a small 67 sq.m. lot in Mandaue, the business growth seemed to be unnoticed. God is a generous God to the missionary couple owners who abided in the Word of God to seek first His kingdom. Truly and behold, like a mustard seed it grew to be a tree of life that furnishes the utmost need of it's employees and stakeholders alike. For the ease and convenience of it's client, JB Rock has remarkably established additional branches in Cebu, one (1) in Liloan and the other at SRP, Talisay. Out of town branches can now be reached out by clients in Dumaguete, Tacloban and Ormoc.
All these years, JB Rock's continuous existence was religiously marked with a seal of solemn commitment to provide utmost satisfaction to clients in terms of quality product and services. Thus, JB Rock has gained recognition and acceptance from clients as "The Natural Stone Specialist ", and viewed as the biggest and largest stone distributor and supplier in the Philippines today.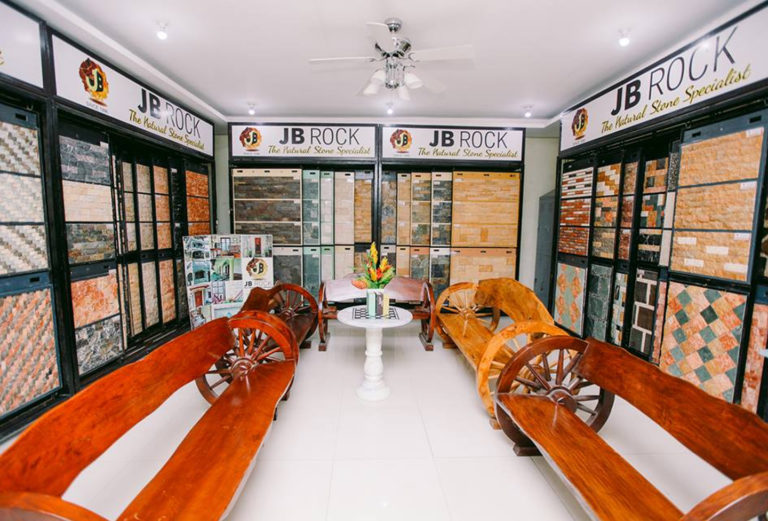 JB Rock commits to provide quality products & services to the beautification needs of homes, hotels, resorts & the like through local & imported natural stones and to promote quality of life through healthy homes & savings.
JB Rock is a dynamic and leading company in the Philippines founded by the Word of God, assures quality products and services to the satisfaction of its stakeholders.
God-Centered
Love
Integrity
Discipline
Excellence
Synergy